Cardiology Pet Care | Pet Cardiologist
Although your family veterinarian can diagnose and treat many problems very well, some conditions require specialized diagnostics and care to optimize the outcome for your pet.
At VSEC, our vet cardiologists approach to heart disease is that it is treatable and to do so most effectively, we have developed a progressive cardiology department that offers advanced medical, interventional, and surgical care for animals with heart disease.
Our board-certified veterinary cardiologist in Thousand Oaks are trained in the diagnosis and treatment of cardiovascular (heart and blood vessels) disease in pets. 
Our veterinary cardiologist will work with you and your pet's primary care veterinarian to devise a plan that is right for your pet and ensure they get the care they need for long and happy life.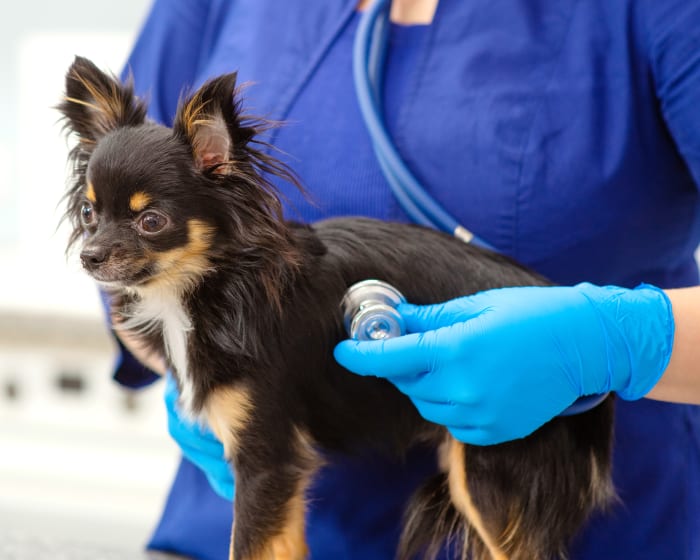 Our Board-Certified Veterinary Cardiologists
A veterinary cardiologist is a specialist that has advanced training in the heart and circulatory system. To become a board-certified veterinary cardiologist a veterinarian usually completes a one-year internship followed by extensive specialized training in an approved residency training program (usually 3-5 years). 
Cardiovascular Diseases in Pets
Heart disease in pets is almost as common as it is in humans. Although heart disease in cats & dogs cannot be prevented, except heartworm disease, the goal is early diagnosis and treatment from your pet cardiologist.
Common cardiovascular diseases in pets include: 
congestive heart failure
hypertrophic cardiomyopathy
dilated cardiomyopathy
degenerative valve disease
systemic hypertension, arrhythmias
congenital heart disease
cardiac tumors
Symptoms & Early Intervention
Early intervention can make all the difference in length and quality of life. If you observe any of these symptoms in your pet, bring them to a vet cardiology department, because it may indicate the need for a cardiac evaluation:
Abdominal distension
Difficulty breathing
Exercise intolerance
Fainting
Fatigue/lethargy
Heart murmur
Persistent coughing
Poor appetite
Tongue or gums turning blue
Weight loss
Cardiac Consultation & Advanced Diagnostics
At your appointment, our VSEC pet cardiologists will perform a thorough physical examination of your pet, and they will also review your pet's health history and current medications.
Depending on your pet's condition, diagnostic testing may be administered to determine the exact cause and status of the heart to create a treatment plan. They may include one or more of the following:
Blood pressure evaluation
Echocardiogram
Electrocardiogram
Holter monitoring
Implantable EKG loop recording
OFA cardiac breed certifications
Pericardiocentesis
Radiography (digital x-rays)
Interventional Cardiology & Interventional Radiology
VSEC pet cardiologists are very experienced in cardiac intervention and have individually performed hundreds of interventional procedures in our cardiac catheterization lab. 
Some common interventional cardiac and vascular procedures include: 
Patent ductus arteriosus (PDA) embolization – with Amplatz ductal occluders (ACDO), vascular plugs, and coils
Pacemaker implantation – for pets with abnormally slow heart rhythms
Balloon valvuloplasty – for pets with valve abnormalities obstructing blood flow
Stent placement – for blood vessels, airways, or urinary tracts that are constricted, compressed, or obstructed
Cardiac septal defect occlusion