Veterinary Cancer Specialist for Your Pet
Cancer is a disease that affects both humans and animals, and it can affect even the healthiest ones. The good news is that there are now many options for treating pets with cancer, and animals typically experience far fewer side effects than do humans when undergoing similar treatments.
Our VSEC veterinary cancer specialist in Thousand Oaks is committed to providing care and treatment for pets with cancer, and support for the individuals and families that love them. Working closely with other specialists and your primary care veterinarian, our veterinary cancer specialist will ensure your pet receives the best possible care. 
After reviewing your pet's medical history and diagnosis our vet oncologist will sit down with you and your pet to discuss the disease, staging (additional diagnostics), treatment options, and prognosis.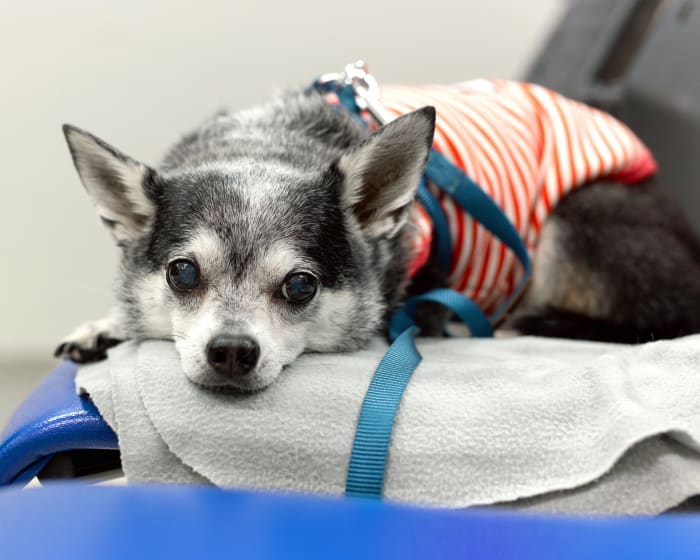 Our Board-Certified Veterinary Oncologist
A board-certified veterinary oncologist has completed extensive training after veterinary school that focuses on oncology (how cancer develops and how to treat it). This training includes an internship and specialized residency, comprehensive exams, and publication requirements to become board-certified by the American College of Veterinary Internal Medicine (ACVIM).
Early Warning Signs of Cancer in Pets
The following signs are not necessarily specific to cancer and may occur due to other diseases. However, if your pet has any of the following symptoms, your primary vet oncologist should do a full diagnostic exam to determine what could be causing them: 
Abnormal swelling that persists and/or continues to grow
Bleeding or abnormal discharge from any body opening
Decreased or loss of appetite
Decreased or reluctance to exercise
Difficulty eating or swallowing
Increased effort to breathe, urinate, or defecate
Loss of stamina
Non-healing sores
Persistent lameness
Recent onset of a persistent offensive odor
Unexplained weight loss or gain
New lumps or bumps
Pet Cancer Treatment Process
If cancer is even suspected, your primary vet can refer you to our VSEC veterinary oncologist. After your appointment is scheduled, our oncology vet team will obtain your pet's medical records from your veterinarian.
At your consultation, the vet oncologist will review your pet's health history and perform a comprehensive physical examination. If necessary, the exam may include a recommendation of diagnostics such as blood work, x-rays, biopsies, fine needle aspirates,  and cytology samples among others.
Once completed, the oncology vet will discuss all treatment options with you, including expected outcomes (prognosis), recovery, and estimated fees.
Types of Cancer Treatment for Pets
Our team of veterinary cancer specialists will review all appropriate treatment options and will carefully guide you through each step of the process to ensure that your pet's quality of life is at the forefront of treatment.
Cancer may be treated with various therapies or combinations of treatments including chemotherapy, electrochemotherapy, hospice care, immunotherapy, nutritional support, pain management, radiation therapy (available by referral), or surgery.
In-House Lab & Pharmacy
Our onsite laboratory allows for rapid testing of blood chemistries and cytology analysis to carefully monitor cancer patients undergoing chemotherapy. We also have a fully stocked pharmacy providing you the convenience to fill any prescription made by your vet oncologist at your pet's appointment.
Veterinary Lab