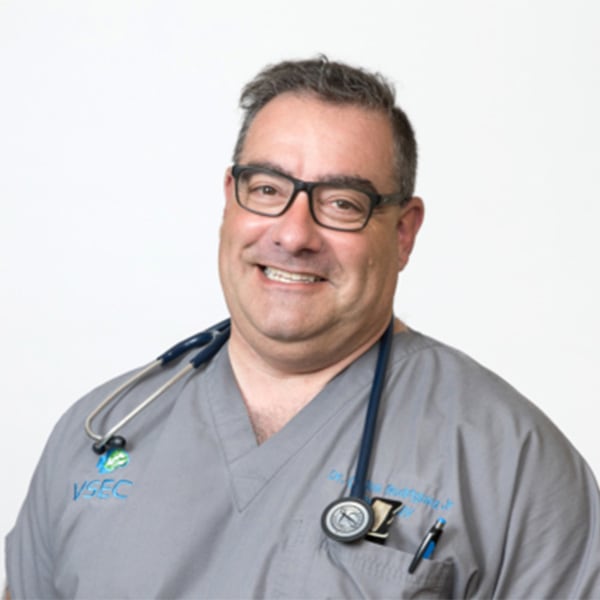 Carlos O. Rodriguez, Jr.
DVM, Ph.D., DACVIM
Dr. Rodriguez was raised in a suburb of Chicago. He attended the University of Illinois for both undergraduate (Microbiology, '86) and his doctorate in veterinary medicine (1990).
Shortly after, he completed a rotating internship in small animal medicine and surgery at Virginia Tech. After an enlightening year in Appalachia, he again packed up his belongings and this time headed west, to UC Davis, where he completed a residency in medical oncology in 1994.
Dr. Rodriguez moved to Houston, Texas, and obtained his Ph.D. in biochemistry at The University of Texas-Houston MD Anderson Cancer Center. His research focused on an old anti-viral drug (synthesized in 1964) that had been rediscovered for its use in T-cell leukemia (1996). His work helped fast-tracked the drug, nelarabine, for FDA approval in the treatment of T-acute lymphoblastic leukemia in children and adults. He moved back to California (2001) after his wife was admitted to the UC Davis School of Veterinary Medicine (Class 2004) and worked in private specialty practice in San Francisco, San Rafael, Berkeley, and Sacramento.
Between 2003 and 2015, he served as a lecturer in medical oncology at UC Davis. He has served as locum faculty at the University of Minnesota, Texas A&M, the University of Florida, and the Ohio State University. He has helped train 20 medical oncologists, three oncology interns, and more than 2,000 students. His academic endeavors included drug development and pharmacology of antineoplastic drugs, aerosol chemotherapy for osteosarcoma, and pegylated arginine deiminase for melanoma. He has authored chapters in oncology textbooks and over 50 scientific articles.
He has served as chair of both the ACVIM Oncology Exam Committee and on the grant review committee for Morris Animal Foundation. He served on the scientific advisory board of Aratana Therapeutics during the development of the first caninzed antibody for B and T cell lymphoma.
In his copious free time, he plays contrabassoon in numerous community orchestras and chamber music groups. He shares his life with his wife, a veterinary criticalist; a tiny Siamese cat, Violet (3); and five barely housebroken, rescued wiener dogs Bruno (15), Bertie (13), Sausage (12), Penny (11) and Piper (4).